NIH Director visits RIKEN's Yokohama Campus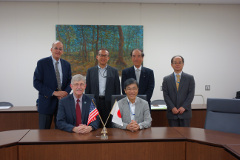 On June 13, Francis S. Collins, Director of the US National Institutes of Health and Roger I. Glass, Associate Director for International Research at NIH, visited the RIKEN Yokohama campus.
After a greeting and briefing on RIKEN provided by Executive Director Koyasu Shigeo, RIKEN Program for Drug Discovery and Medical Technology Platforms Director Toshio Goto gave a presentation of his program.
Following the presentation, the delegation visited some of the research facilities of the RIKEN Center for Life Science Technologies and the RIKEN Center for Integrative Medical Sciences. During the visit, they had lively exchanges of views with RIKEN scientists.
After the laboratory visit, they sat down for an active discussion about research trends in Japan and US in the life science area, recent NIH research grants, career paths for young scientist to promote the circulation of human resources, and other topics.