Fugaku prototype named greenest supercomputer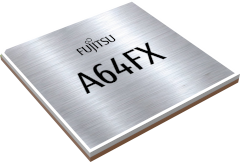 The prototype for Fugaku, which is currently being developed by RIKEN and Fujitsu as a successor to the K computer, has been awarded the top spot on the Green 500 list, indicating that it is the most energy efficient computer on the list of the world's 500 fastest computers measured on the LINPACK benchmark. The new ranking was announced on November 18 at the international supercomputing conference (SC19) in Denver, Colorado. The prototype, which is installed at Fujitsu's plant in Numazu, Japan, achieved a mark of 16.876 gigaflops per watt of power. By comparison, a typical desktop computer might deliver performance of around 0.5, considering about 200 watts of power consumption and a performance of 100 gigaflops. The prototype, which uses 768 of Fujitsu's A64FX processor, a new high-performance Arm CPU, achieved a rating of 1.9995 petaflops on the LINPACK benchmark. The new computer, which is planned to go into full operation around 2021, will be used in a variety of areas such as drug, natural disaster, and industrial simulations, and will become a platform for AI and big data applications.
For more information, see the press release on Fujitsu's website.