Ninth Global Summit of Research Institute Leaders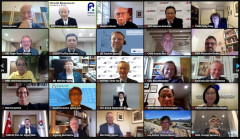 On October 3, leaders of national research institutes from around the world attended the Ninth Global Summit of Research Institute Leaders, which was held in conjunction with the Seventeenth Annual Meeting of STS forum, where they discussed the topic of "Multilateral Collaboration during the COVID-19 Pandemic." This year, due to the pandemic, the meeting was held online rather than in Kyoto.
Following presentations by each of the leaders, participants raised a number of issues, starting from the fact that the global pandemic represents a "moment for science," where there is a need to mobilize scientific resources on a global scale both to combat the current epidemic and to prepare for future ones. Participants stressed the need to maintain transparency and trust in science, and to have flexible funding and other mechanisms to ensure that research organizations can swiftly set up multilateral projects and share resources in order to combat crises such as COVID-19. In closing, they adopted a statement in which they resolved to explore new modes of multilateral collaboration, enabling them to use human and other resources most effectively under this unique situation.
The meeting was co-hosted by RIKEN and the National Institute of Advanced Industrial Science and Technology (AIST), and co-chaired by President Hiroshi Matsumoto of RIKEN and President Matthias Kleiner of the Leibniz Association. The participants came from 26 institutes from around the globe.