President Hiroshi Matsumoto awarded Grand Cordon of the Order of the Sacred Treasure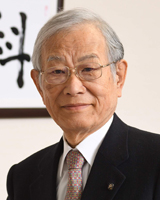 President Hiroshi Matsumoto was selected to be one of those honored with the Grand Cordon of the Order of the Sacred Treasure at this year's autumn's awards. The Order of the Sacred Treasure is awarded to individuals who have dedicated themselves to public service and have made distinguished achievements, and the Grand Cordon is the highest rank conferred in the order.
Upon receiving the distinguished award, President Matsumoto said, "I am extremely grateful for this unexpected honor. I have always believed that learning is a form of human relation that revolves around the truth. Learning is a vast truth-seeking activity, and there is only so much that one individual can do. We must learn from the wisdom of our predecessors, have discussions with those who share the present with us, and entrust our achievements to future generations. Connections with people have always been my support, and I would like to express my deepest gratitude to my family, my mentors, all my colleagues from the days when I was a laboratory researcher, my colleagues from Kyoto University and RIKEN, and all those who have been a part of my life."