Chief Scientist Laboratories

Bioresource Engineering Laboratory

Chief Scientist: Atsuo Ogura (D.V.M., Ph.D.)
Research Summary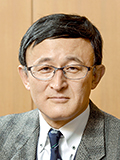 Our goal is to understand how new life is established at fertilization, how the germline genomes are established during development, and how the resultant embryonic genomes are programmed to contribute to two developmental lineages (the embryonic and placental lineages) in the mammalian life cycle. To this end, we reconstruct special embryos using reproductive engineering techniques including microinsemination (sperm or spermatid injection), nuclear transfer cloning and establishment of new stem cell lines, and undertake systematic and comparable analyses. This strategy may provide us with the opportunity to solve the important questions above, which cannot be achieved by the conventional experimental methods.
Main Research Fields
Related Research Fields
Agricultural Sciences
Biological Sciences
Medicine, Dentistry & Pharmacy
Developmental biology
Laboratory animal science
Integrative animal science
Keywords
Developmental epigenetics
Nuclear transfer
Fertilization
Genomic reprogramming
Selected Publications
1.

Inoue K, Ogonuki N, Kamimura S, Inoue H, Matoba S, Hirose M, Honda A, Miura K, Hada M, Hasegawa A, Watanabe N, Dodo Y, Mochida K, and Ogura A.:
"Loss of H3K27me3 imprinting in the Sfmbt2 miRNA cluster causes enlargement of cloned mouse placentas."
Nat Commun 11, 2150 (2020).

2.

Hirose M,Honda A, Fulka H, Tamura-Nakano M, Matoba S, Tomishima T, Mochida K, Hasegawa A, Nagashima K, Inoue K, Ohtsuka M, Baba T, Yanagimachi R, and Ogura A.:
"Acrosin is essential for sperm penetration through the zona pellucida in hamsters."
Proc Natl Acad Sci USA 117, 2513-2518 (2020)

3.

Matoba S, Miura K, Hirose M, Shiura H, Kohda T, Nakamuta N, and Ogura A.:
"Paternal knockout of Slc38a4/SNAT4 causes placental hypoplasia associated with intrauterine growth restriction in mice."
Proc Natl Acad Sci U S A 116, 21047-21053 (2019)

4.

Hatanaka Y, Tsusaka T, Shimizu N, Morita K, Suzuki T, Machida S, Satoh M, Honda A, Hirose M, Kamimura S, Ogonuki N, Nakamura T, Inoue K, Hosoi Y, Dohmae N, Nakano T, Kurumizaka H, Matsumoto K, Shinkai Y, and Ogura A.:
"Histone H3 methylated at arginine 17 is essential for reprogramming the paternal genome in zygotes."
Cell Rep 20, 2756-2765 (2017).

5.

Inoue, K., Hirose, M., Inoue, H., Hatanaka, Y., Honda, A., Hasegawa, A., Mochida, K., and Ogura, A.:
"The rodent-specific microRNA cluster within the Sfmbt2 gene is imprinted and essential for placental development."
Cell Rep 19, 949-956 (2017).

6.

Kaminuma, O., Katayama, K., Inoue, K., Saeki, M., Nishimura, T., Kitamura, N., Shimo, Y., Tofukuji, S., Ishida, S., Ogonuki, N., Kamimura, S., Oikawa, M., Katoh, S., Mori, A., Shichijo, M., Hiroi, T., and Ogura, A.:
"Hyper-reactive cloned mice generated by direct nuclear transfer of antigen-specific CD4+ T cells."
EMBO Rep 18, 885-893 (2017).

7.

Hatanaka, Y., Inoue, K., Oikawa, M., Kamimura, S., Ogonuki, N., Kodama, E., Ohkawa, Y., Tsukada, Y., and Ogura, A.:
"Histone chaperone CAF-1 mediates repressive histone modifications to protect preimplantation mouse embryos from endogenous retrotransposon."
Proc Natl Acad Sci USA 112, 14641-14646 (2015).

8.

Ogura, A., Inoue, K., and Wakayama, T.:
"Recent advancements in cloning by somatic cell nuclear transfer."
Philos Trans R Soc Lond B Biol Sci 368, 20110329 (2013).

9.

Matoba, S., Inoue, K., Kohda, K., Sugimioto, M., Mizutani, E., Ogonuki, N., Nakamura, T., Abe, K., Nakano, T., Ishino, F., and Ogura, A.:
"RNAi-mediated knockdown of Xist can rescue the impaired postimplantation development of cloned mouse embryos."
Proc Natl Acad Sci USA 108, 20621-20626 (2011).

10.

Inoue, K., Kohda, T., Sugimoto, M., Sado, T., Ogonuki, N., Matoba, S., Shiura, H., Ikeda, R., Mochida, K., Fujii, T., Sawai, K., Otte, AP., Tian, XC., Yang, X., Ishino, F., Abe, K., and Ogura, A.:
"Impeding Xist expression from the active X chromosome improves mouse somatic cell nuclear transfer."
Science 330, 496-499 (2010).
Annual research report
Related Links
Lab Members
Principal investigator
Atsuo Ogura

Chief Scientist
Contact Information
3-1-1, Koyadai, Tsukuba-shi, Ibaraki 305-0074
Tel: +81-(0)29-836-9165
Fax: +81-(0)29-836-9172
Email: atsuo.ogura [at] riken.jp