Chief Scientist Laboratories

Thin-Film Device Laboratory

Chief Scientist: Takao Someya (Ph.D.)
Research Summary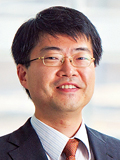 Our laboratory is aiming to develop novel applications of thin-film devices such as organic electronics as well as to explore their fundamental study. More specifically, electronic and/or photonic devices are integrated on the ultra-thin films or rubber sheets to produce next-generation information devices having excellent mechanical flexibility. These flexible devices are cooperatively linked with state-of-the-art silicon technologies such as ultralow power wireless chips and applied to flexible systems. Moreover, by utilizing the biocompatible electronics such as flexible devices, emerging region that fuses the machine and the biological will be investigated to advance unique bio-medical and robotics applications. Furthermore, the rapid prototyping with the technique of digital fabrication will be utilized to establish various kinds of new systems and services that support humans and consequently the new manufacturing parading that can respond to rapid changes of society and meet their needs will be realized.
Main Research Fields
Related Research Fields
Chemistry
Electronic Engineering
Keywords
Organic electronics
Flexible electronics
Selected Publications
Papers with an asterisk(*) are based on research conducted outside of RIKEN.
1.

Fukuda, K.., and Someya, T.;
"Recent Progress in the Development of Printed Thin-Film Transistors and Circuits with High-Resolution Printing Technology"
Advanced Materials, DOI: 10.1002/adma.201602736 (2016).

2.

Jinno, H., Yokota, T., Matsuhisa, N., Kaltenbrunner, M., Tachibana, Y., and Someya, T.:
"Low operating voltage organic transistors and circuits with anodic titanium oxide and phosphonic acid self-assembled monolayer dielectrics"
Organic Electronics, 40, 58-64 (2016).

3.

Fukuda, K., Sekine, T., Shiwaku, R., Morimoto, M., Kumaki, D., and Tokito. S.:
"Free-Standing Organic Transistors and Circuits with Sub-Micron Thicknesses"
Scientific Reports, 6, 27450 (2016).

4.

*Kaltenbrunner, M., Sekitani, T., Reeder, J., Yokota, T., Kuribara, K., Tokuhara, T., Drack, M., Schwoediauer, R., Graz, I., Bauer-Gogonea, S., Bauer, S., and Someya, T.:
"An ultra-lightweight design for imperceptible plastic electronics"
Nature 499, 458–463 (2013).

5.

*Sekitani, T., Noguchi, Y., Hata, K., Fukushima, T., Aida, T., Someya, T.:
"A Rubberlike Stretchable Active Matrix Using Elastic Conductors"
Science, Volume 321, 1468–1472 (2008).
Recent Research Results
Annual research report
Related Links
Lab Members
Principal investigator
Takao Someya

Chief Scientist
Core members
Kenjiro Fukuda

Senior Research Scientist

Steven Ian Rich

Postdoctoral Researcher
Careers
Contact Information
W405 Cooperation Center,
2-1 Hirosawa,
Wako, Saitama
351-0198, Japan
Email: takao.someya [at] riken.jp