RIKEN Hakubi Research Teams

Genome Immunobiology RIKEN Hakubi Research Team

RIKEN Hakubi Team Leader: Nicholas Parrish (M.D., Ph.D)
Research Summary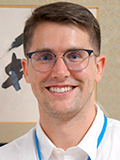 I am interested in the interactions between an organism's genome and its viruses, especially how "self," in the immunological sense, is established at the genome level. As a medical doctor with training in surgery, I am seeking new understanding that could enable practical innovations in preventing and treating virus infections and allowing tolerance to specific "non-self," for example transplanted organs. My colleagues and I found that viral sequences present in some mammalian genomes can generate small RNAs called piRNAs. My team will test the hypothesis that this enables RNA interference to prevent or ameliorate virus infection.
Main Research Fields
Related Research Fields
Complex Systems
Biology
Medicine, Dentistry & Pharmacy
Genome Biology: Expression of Genome Function
Immunology: Immunological memory
Virology: Prevention and control
Keywords
Endogenous viral elements
Endogenous viral elements
Genome engineering
Viral immunity
Retrotransposition
Selected Publications
Papers with an asterisk(*) are based on research conducted outside of RIKEN.
1.

*Parrish, N.F., Tomonaga, K.:
"A Viral (Arc)hive for Metazoan Memory."
Cell, 172(1-2):8-10. (2018).

2.

*Parrish, N.F., Tomonaga, K.:
"Endogenized viral sequences in mammals."
Curr Opin Microbiol., 31:176-183. (2016).

3.

*Sudmant, P.H., Rausch, T., Gardner, E.J., Handsaker, R.E., Abyzov, A., Huddleston, J., Zhang, Y., Ye, K., Jun, G., Fritz, M.H., Konkel, M.K., Malhotra, A., Stütz, A.M., Shi, X., Casale, F.P., Chen, J., Hormozdiari, F., Dayama, G., Chen, K., Malig, M., Chaisson, M.J.P., Walter, K., Meiers, S., Kashin, S., Garrison, E., Auton, A., Lam, H.Y.K., Mu, X.J., Alkan, C., Antaki, D., Bae, T., Cerveira, E., Chines, P., Chong, Z., Clarke, L., Dal, E., Ding, L., Emery, S., Fan, X., Gujral, M., Kahveci, F., Kidd, J.M., Kong, Y., Lameijer, E.W., McCarthy, S., Flicek, P., Gibbs, R.A., Marth, G., Mason, C.E., Menelaou, A., Muzny, D.M., Nelson, B.J., Noor, A., Parrish, N.F., Pendleton, M., Quitadamo, A., Raeder, B., Schadt, E.E., Romanovitch, M., Schlattl, A., Sebra, R., Shabalin, A.A., Untergasser, A., Walker, J.A., Wang, M., Yu, F., Zhang, C., Zhang, J., Zheng-Bradley, X., Zhou, W., Zichner, T., Sebat, J., Batzer, M.A., McCarroll, S.A.; 1000 Genomes Project Consortium, Mills, R.E., Gerstein, M.B., Bashir, A., Stegle, O., Devine, S.E., Lee, C., Eichler, E.E., Korbel, J.O.:
"An integrated map of structural variation in 2,504 human genomes."
Nature, 526(7571):75-81. (2015).

4.

*1000 Genomes Project Consortium, Auton, A., Brooks, L.D., Durbin, R.M., Garrison, E.P., Kang, H.M., Korbel, J.O., Marchini, J.L., McCarthy, S., McVean, G.A., Abecasis, G.R.:
"A global reference for human genetic variation."
Nature, 526(7571):68-74. (2015).

5.

*Sofuku, K., Parrish, N.F., Honda, T., Tomonaga, K.:
"Transcription Profiling Demonstrates Epigenetic Control of Non-retroviral RNA Virus-Derived Elements in the Human Genome."
Cell Reports, 12(10):1548-54. (2015).

6.

*Parrish, N.F., Fujino, K., Shiromoto, Y., Iwasaki, Y.W., Ha, H., Xing, J., Makino, A., Kuramochi-Miyagawa, S., Nakano, T., Siomi, H., Honda, T., Tomonaga, K.:
"piRNAs derived from ancient viral processed pseudogenes as transgenerational sequence-specific immune memory in mammals."
RNA, 21(10):1691-703. (2015).
Recent Research Results
Annual research report
Related Links
Lab Members
Principal investigator
Nicholas Parrish

RIKEN Hakubi Team Leader
Contact Information
1-7-22 Suehiro-cho, Tsurumi-ku,
Yokohama, Kanagawa
230-0045, Japan
Tel: +81-(0)45-503-9589
Fax : +81-(0)45-503-9566
Email: nicholas.parrish [at] riken.jp