RIKEN Information R&D and Strategy Headquarters

Interactive Robot Research Team

Team Leader: Takashi Minato (D.Eng)
Research Summary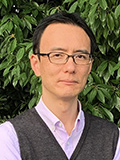 In order to develop robots that provide casual and modest support for human daily activities, this team studies robot-human interactions such that humans are not aware of robots' support.
Specifically, the team will promote research related to the following three themes.
*

Design of a robot architecture that has cognitive functions and conversation capability

*

Research on interfaces that enable robots to express natural behavior in interaction with humans

*

Research and implementation to integrate various functions developed by other teams into one system
Main Research Fields
Related Research Fields
Engineering
Informatics
Interdisciplinary Science & Engineering
Mathematical & Physical Sciences
Biological Sciences
Biology
Medicine, Dentistry & Pharmacy
Human interface and interaction
Intelligent robotics
Keywords
Human-robot interaction
Humanoid robot
Architecture for robot intelligence
Nonverbal communication for human-robot interaction
Selected Publications
Papers with an asterisk(*) are based on research conducted outside of RIKEN.
1.

*Uchida, T., Takahashi, H., Ban. M., Shimaya, J., Minato, T., Ogawa, K., Yoshikawa, Y., and Ishiguro, H.:
"Women Don't Hesitate to Self-disclose to Robots: Gender Differences for Attitude toward Robots"
Multimodal Technologies and Interaction, Vol.4, No.3, p.35 (2020)

2.

*Zheng, X., Shiomi, M., Minato, T., and Ishiguro, H.:
"How Can Robot Make People Feel Intimacy Through Touch?"
Journal of Robotics and Mechatronics, Vol.32, No.1, pp.51-58 (2020)

3.

*Jinnai, N., Sumioka, H., Minato, T., and Ishiguro, H.:
"The Multi-modal Interaction through Anthropomorphically Designed Communication Medium Enhances the Self-Disclosures of the Personal Information"
Journal of Robotics and Mechatronics, Vol.32, No.1, pp.76-85 (2020)

4.

*Zheng, X., Shiomi, M., Minato, T., and Ishiguro, H.:
"What Kinds of Robot's Touch Will Match Expressed Emotions?"
IEEE Robotics and Automation Letters, Vol.5, Issue 1, pp.127-134 (2019)

5.

*Uchida, T., Minato, T., and Ishiguro, H.:
"Who is responsible for a dialogue breakdown? An error recovery strategy that promotes cooperative intentions from humans by mutual attribution of responsibility in human-robot dialogues"
Frontiers in Robotics and AI, Vol.6, No.29 (2019)

6.

*Ishi, CT., Minato, T., and Ishiguro, H.:
"Analysis and generation of laughter motions, and evaluation in an android robot"
APSIPA Transactions on Signal and Information Processing, Vol.8 (2019)

7.

*Shiomi, M., Shatani, K., Minato, T., and Ishiguro, H.:
"How should a Robot React before People's Touch?: Modeling a Pre-Touch Reaction Distance for a Robot's Face"
IEEE Robotics and Automation Letters, Vol.3, Issue 4, pp.3773-3780 (2018)

8.

*Sakai, K., Minato, T., Ishi, CT., and Ishiguro, H.:
"Novel Speech Motion Generation by Modelling Dynamics of Human Speech Production"
Frontiers in Robotics and AI, Vol.4, No.49 (2017)

9.

*Ishi, CT., Minato, T., and Ishiguro, H.:
"Motion Analysis in Vocalized Surprise Expressions and Motion Generation in Android Robots"
IEEE Robotics and Automation Letters, Vol.2, Issue 3, pp.1748-1754 (2017)

10.

*Kuwamura, K., Minato, T., Nishio, S., and Ishiguro, H.:
"Inconsistency of Personality Distortion Caused by Appearance Gap in Robotic Telecommunication"
Interaction Studies, Vol.16, No.2, pp.249-271 (2015)
Lab Members
Principal investigator
Takashi Minato

Team Leader
Core members
Carlos Toshinori Ishi

Senior Scientist

Chaoran Liu

Research Scientist

Kurima Sakai

Research Scientist

Tomo Funayama

Technical Staff I

Ryusuke Mikata

Technical Staff I

Yuka Nakayama

Technical Staff II
Contact Information
3rd Floor, Advanced Telecommunications Research Institute International
2-2-2 Hikaridai Seika-cho, Sorakugun, Kyoto
619-0288 Japan (Kansai Science City)
Tel:+81-(0)774-95-1360
Email: takashi.minato [at] riken.jp