RIKEN joins COVID-19 High Performance Computing Consortium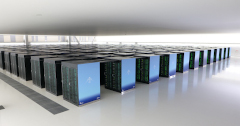 RIKEN is now a member of the COVID-19 High Performance Computing Consortium, an international network aiming to promote research on countermeasures to the COVID-19 pandemic using supercomputers. The consortium was established in the United States in March.
RIKEN's participation will center on the supercomputer Fugaku, which is operated by the RIKEN Center for Computational Sciences (R-CCS). Currently, Fugaku, as Japan's flagship high-performance computing system, is being used for research on COVID-19 under a program promoted by the Ministry of Education, Culture, Sports, Science and Technology (MEXT). As a member of the consortium, R-CCS will collaborate with MEXT to provide computational and data resources to researchers around the world and to share the results of research carried out in the United States and Japan as well as other countries that are part of the consortium. This effort is also in line with a declaration on May 28 by the G7 Science and Technology Ministers calling for a strengthening of high-performance computing-based research on COVID-19.