RIKEN Center for Emergent Matter Science

Emergent Soft Matter Function Research Group

Group Director: Takuzo Aida (D.Eng.)
Research Summary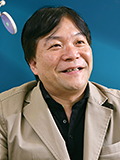 With world's focus on environment and energy issues, our group aims to establish a novel principle of material sciences addressing these problems, through the development of unprecedented functional materials with precisely controlled structure and properties, from the molecular to nano-, meso-, or macroscopic level. The main research subjects include the development of (1) novel water photolysis catalysts entirely composed of ubiquitous elements, (2) organic ferroelectric materials for solution-processable high-density memory devices, and (3) graphitic soft materials based on the novel efficient method to exfoliate graphite into graphene sheets. The organic functional materials we develop are thoroughly investigated from the viewpoints of optical, electrical and morphological properties.
Main Research Fields
Related Research Fields
Keywords
Soft materials
Self-assembly
Energy conversion
Selected Publications
Papers with an asterisk(*) are based on research conducted outside of RIKEN.
1.

Jiheong Kang, Daigo Miyajima, Tadashi Mori, Yoshihisa Inoue, Yoshimitsu Itoh, and Takuzo Aida:
"A Rational Strategy for the Realization of Chain-Growth Supramolecular Polymerization"
Science, 347, 646–651 (2015).

2.

Mingjie Liu, Yasuhiro Ishida, Yasuo Ebina, Takayoshi Sasaki, Takaaki Hikima, Masaki Takata, and Takuzo Aida:
"An Anisotropic Hydrogel with Electrostatic Repulsion between Cofacially Aligned Nanosheets"
Nature, 517, 68–72 (2015).

3.

Takahiro Fukino, Hyunho Joo, Yuki Hisada, Maiko Obana, Hiroshi Yamagishi, Takaaki Hikima, Masaki Takata, Norifumi Fujita, and Takuzo Aida:
"Manipulation of Discrete Nanostructures by Selective Modulation of Noncovalent Forces"
Science, 344, 499–504(2014).

4.

Mingjie Liu, Yasuhiro Ishida, Yasuo Ebina, Takayoshi Sasaki, and Takuzo Aida:
"Photolatently Modulable Hydrogels Using Unilamellar Titania Nanosheets as Photocatalytic Crosslinkers"
Nat. Commu., 4, 2029 (2013).

5.

S. Biswas, K. Kinbara, T. Niwa, H. Taguchi, N. Ishii, S. Watanabe, K. Miyata, K. Kataoka and T. Aida:
"Biomolecular Robotics for Chemomechanically Driven Guest Delivery Fuelled by Intracellular ATP"
Nat. Chem., 5, 613 -620 (2013).

6.

Wei Zhang and Takuzo Aida:
"Thermally Responsive Pulsating Nanotubules"
Science, 337, 1462–1463. (2012).

7.

* D. Miyajima, F. Araoka, H. Takezoe, J. Kim, K. Kato, M. Takata and T. Aida:
"Ferroelectric Columnar Liquid Crystal Featuring Confined Polar Groups Within Core–Shell Architecture"
Science, 336, 209 -213(2012).

8.

* T. Aida, E. W. Meijer and S. I. Stupp:
"Functional Supramolecular Polymers"
Science, 335, 813-817 (2012).

9.

W. Zhang, W. Jin, T. Fukushima, A. Saeki, S. Seki and T. Aida:
"Supramolecular Linear Heterojunction Composed of Graphite-Like Semiconducting Nanotubular Segments"
Science, 334, 340-343 (2011).

10.

E. Ohta, H. Sato, S. Ando, A. Kosaka, T. Fukushima, D. Hashizume, M. Yamasaki, K. Hasegawa, A. Muraoka, H. Ushiyama, K. Yamashita and T. Aida:
"Redox-responsive Molecular Helices with Highly Condensed π-Clouds"
Nat. Chem., 3, 68-73 (2011).
Recent Research Results

Related Links
Lab Members
Principal investigator
Takuzo Aida

Group Director
Core members
Nobuhiko Mitoma

Research Scientist

Hubiao Huang

Research Scientist

Yingluo Zhao

Student Trainee

Gangfeng Chen

Student Trainee

Niannian Wu

Student Trainee

Yang Hong

Student Trainee

Yiren Cheng

Student Trainee
Contact Information
106, Frontier Material Research Facilities,
2-1 Hirosawa, Wako,
Saitama 351-0198, Japan
Email: takuzo.aida [at] riken.jp