RIKEN SPring-8 Center

SR Life Science Instrumentation Team

Team Leader: Masaki Yamamoto (Ph.D.)
Research Summary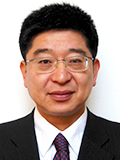 SR Life Science Instrumentation Team has mission of research and development of new technologies for structural biology and beamlines at SPring-8 site. Our mission includes technologies on instrumentation of beamline optics, experimental station, sample handling and X-ray detectors, and methodologies on data collection and structure determination by using SPring-8 or SACLA. Moreover, our team is responsible for the operation of four RIKEN structural biology beamlines (BL32XU, BL26B1&B2, and BL38B1). The methodology development on damage-free crystallography and X-ray coherent diffraction cryo-imaging based on ultra-bright and short pulse beam of SACLA for life science research is going on.
Main Research Fields
Related Research Fields
Engineering
Agricultural Sciences
Medicine, Dentistry & Pharmacy
Structural biochemistry
Biophysics
Quantum beam science
Keywords
Synchrotron Radiation Beamline
Macromolecular Crystallography
Bio-SAXS
Coherent Diffraction Imaging
Selected Publications
1.

Abe, S., Tanaka, J., Kojima, M., Kanamaru, S., Hirata, K., Yamashita, K., Kobayashi, A., and Ueno, T.:
"Cell-free protein crystallization for nanocrystal structure determination"
Scientific reports 12, 16031 (2022).

2.

Imaizumi, Y., Takanuki, K., Miyake, T., Takemoto, M., Hirata, K., Hirose, M., Oi, R., Kobayashi, T., Miyoshi, K., Aruga, R., Yokoyama, T., Katagiri, S., Matsuura, H., Iwasaki, K., Kato, T., Kaneko, M.K., Kato, Y., Tajiri, M., Akashi, S., Nureki, O., Hizukuri, Y., Akiyama, Y., and Nogi, T.:
"Mechanistic insights into intramembrane proteolysis by E. coli site-2 protease homolog RseP"
Science Advances 8, eabp9011 (2022).

3.

Kwon, H., Basran, J., Pathak, C., Hussain, M., Freeman, S.L., Fielding, A.J., Bailey, A.J., Stefanou, N., Sparkes, H.A., Tosha, T., Yamashita, K., Hirata, K., Murakami, H., Ueno, G., Ago, H., Tono, K., Yamamoto, M., Sawai, H., Shiro, Y., Sugimoto, H., Raven, E., and Moody, P.C.E.:
"XFEL Crystal Structures of Peroxidase Compound II"
Angewandte Chemie International Edition 60 (26) ,14578-14585 (2021).

4.

Maeki, M., Ito, S., Takeda, R., Ueno, G., Ishida, A., Tani, H., Yamamoto, M., and Tokeshi, M.:
"Room-temperature crystallography using a microfluidic protein crystal array device and its application to protein-ligand complex structure analysis"
Chemical Science 11, 9072-9087 (2020).

5.

Nakasako, M., Kobayashi, A., Takayama, Y., Asakura, K., Oide, M., Okajima, K., Oroguchi, T., and Yamamoto, M.:
"Methods and application of coherent X-ray diffraction imaging of noncrystalline particles"
Biophysical reviews 12(2), 541-567 (2020).

6.

Suga, M., Akita, F., Yamashita, K., Nakajima, Y., Ueno, G., Li, H., Yamane, T. Hirata, K., Umena, Y., Yonekura, S., Yu, L.-J., Murakami, H., Nomura, T., Kimura, T., Kubo, M., Baba, S., Kumasaka, T., Tono, K., Yabashi, M., Isobe, H., Yamaguchi, K., Yamamoto, M., Ago, H., and Shen, J.-R.:
"An oxyl/oxo mechanism for oxygen-oxygen coupling in PSII revealed by an x-ray free-electron laser"
Science, 366, 334-338 (2019).

7.

Basu, S., Olieric, V., Leonarski, F., Matsugaki, N., Kawano, Y., Takashi, T., Huang, C.-Y., Yamada, Y., Vera, L., Olieric, N., Basquin, J., Wojdyla, J. A., Bunk, O., Diederichs, K., Yamamoto, M., and Wang, M.:
"Long-wavelength native-SAD phasing: opportunities and challenges"
IUCrJ 6, 373-386 (2019).

8.

Hirata, K., Yamashita, K., Ueno. G., Kawano Y., Hasegawa, K., Kumasaka, T., and Yamamoto, M.:
"ZOO: an automatic data-collection system for high-throughput structure analysis in protein microcrystallography"
Acta Crystallographica Section D 75, 138-150 (2019).

9.

Yamashita, K., Hirata, K., and Yamamoto, M.:
"KAMO: towards automated data processing for microcrystals"
Acta Crystallographica Section D 74, 441-449 (2018).

10.

Hasegawa, K., Yamashita, K., Murai, T. Nuemket,N., Hirata, K., Ueno, G., Ago, H., Nakatsu, T., Kumasaka, T., and Yamamoto. M.:
"Development of a dose-limiting data collection strategy for serial synchrotron rotation crystallography"
Journal of Synchrotron Radiation 24 (1), 29-41 (2017).
Recent Research Results
Related Links
Lab Members
Principal investigator
Masaki Yamamoto

Team Leader
Core members
Hideo Ago

Senior Research Scientist

Hiroshi Sugimoto

Senior Research Scientist

Yoshiaki Kawano

Senior Technical Scientist

Go Ueno

Senior Technical Scientist

Kunio Hirata

Senior Technical Scientist

Takaaki Hikima

Research Scientist
Contact Information
Structural Biology Facility,
1-1-1 Kouto, Sayo-cho,
Sayo-gun, Hyogo,
679-5148 Japan
Tel: +81-(0)791-58-2839
Fax: +81-(0)791-58-2834
Email: yamamoto [at] riken.jp