RIKEN SPring-8 Center

SR Life Science Instrumentation Team

Team Leader: Masaki Yamamoto (Ph.D.)
Research Summary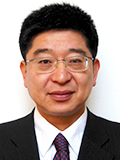 SR Life Science Instrumentation Team has mission of research and development of new technologies for structural biology and beamlines at SPring-8 site. Our mission includes technologies on instrumentation of beamline optics, experimental station, sample handling and X-ray detectors, and methodologies on data collection and structure determination by using SPring-8 or SACLA. Moreover, our team is responsible for the operation of four RIKEN structural biology beamlines (BL32XU, BL26B1&B2, and BL38B1). The methodology development on damage-free crystallography and X-ray coherent diffraction cryo-imaging based on ultra-bright and short pulse beam of SACLA for life science research is going on.
Main Research Fields
Related Research Fields
Engineering
Agricultural Sciences
Medicine, Dentistry & Pharmacy
Structural biochemistry
Biophysics
Quantum beam science
Keywords
Synchrotron Radiation Beamline
Macromolecular Crystallography
Bio-SAXS
Coherent Diffraction Imaging
Selected Publications
1.

Keitaro Yamashita, Kunio Hirata, Masaki Yamamoto.:
"KAMO: towards automated data processing for microcrystals."
Acta Crystallographica Section D 74 (5), 441-449 (2018)

2.

Kazuya Hasegawa, Keitaro Yamashita, T Murai, Nipawan Nuemket, Kunio Hirata, Go Ueno, Hideo Ago, Toru Nakatsu, Takashi Kumasaka, Masaki Yamamoto.:
"Development of a dose-limiting data collection strategy for serial synchrotron rotation crystallography"
Journal of Synchrotron Radiation 24 (1), 29-41 (2017)

3.

Amane Kobayashi, Yuki Sekiguchi, Yuki Takayama, Tomotaka Oroguchi, Keiya Shirahama, Yasufumi Torizuka Masahiro Manoda, Masayoshi Nakasako, and Masaki Yamamoto.:
"TAKASAGO-6 apparatus for cryogenic coherent X-ray diffraction imaging of biological non-crystalline particles using X-ray free electron laser at SACLA."
Review of Scientific Instruments 87, 053109 (2016)

4.

Keitaro Yamashita, Dongqing Pan, Tomohiko Okuda, Michihiro Sugahara, Atsushi Kodan, Tomohiro Yamaguchi, Tomohiro Murai, Keiko Gomi, Naoki Kajiyama, Eiichi Mizohata, Mamoru Suzuki, Eriko Nango, Kensuke Tono, Yasumasa Joti, Takashi Kameshima, Jaehyun Park, Changyong Song, Takaki Hatsui, Makina Yabashi, So Iwata, Hiroaki Kato, Hideo Ago, Masaki Yamamoto, and Toru Nakatsu.:
"An isomorphous replacement method for efficient de novo phasing for serial femtosecond crystallography."
Scientific Reports 5、 14017 (2015)

5.

Suga, M., Akita, F., Hirata, K., Ueno, G., Murakami, H., Nakajima, Y., Shimizu, T., Yamashita, K., Yamamoto, M., Ago, H., and Shen J.R.:
"Native structure of photosystem II at 1.95A resolution viewed by femtosecond X-ray pulses"
Nature 517, 99-103 (2015).

6.

Hirata, K., Shinzawa-Itoh, K., Yano, N., Takemura, S., Kato, K., Hatanaka, M., Muramoto, K., Kawahara, T., Tsukihara, T., Yamashita, E., Tono, K., Ueno, G., Hikima, T., Murakami, H., Inubushi, Y., Yabashi, M., Ishikawa, T., Yamamoto, M., Ogura, T., Sugimoto, H., Shen, J. R., *Yoshikawa, S. and Ago, H.:
"Determination of damage-free crystal structure of an X-ray-sensitive protein using an XFEL"
Nature Methods 11, 734-746 (2014)

7.

Kumazaki, K., Chiba, S., Takemoto, M., Furukawa, A., Nishiyama, K., Sugano, Y., Mori, T., Dohmae, N., Hirata, K., Nakada-Nakura, Y., Maturana, AD., Tanaka, Y., Mori, H., Sugita, Y., Arisaka, F., Ito, K., Ishitani, R., Tsukazaki, T., Nureki, O.:
"Structural basis of Sec-independent membrane protein insertion by YidC"
Nature 509, 516?520 (2014)

8.

Nishizawa, T., Kita, S., Maturana, A.D., Furuya, N., Hirata, K., Kasuya, G., Ogasawara, S., Dohmae, N., Iwamoto, T., Ishitani, R., Nureki, O.:
"Structural Basis for the Counter-Transport Mechanism of a H+/Ca2+ Exchanger."
Science 341, (6142): 168-172 (2013)

9.

Nakasako, M, Takayama, Y, Oroguchi, T, Sekiguchi Y, Kobayashi, A, Shirahama, K, Yamamoto, M, Hikima, T, Yonekura, K, Maki-Yonekura, S, Kohmura Y, Inubushi, Y, Takahashi, Y, Suzuki A, Matsunaga, S, Inui, Y, Tono, K, Kameshima, T, Joti, Y, Hoshi, T.:
"KOTOBUKI-1 apparatus for cryogenic coherent X-ray diffraction imaging"
Rev. Sci. Instrum. 84, 093705 (2013).

10.

Hirata, K., Kawano, Y., Ueno, G., Hashimoto, K., Murakami, H., Hasegawa, K., Hikima, T., Kumasaka, T., Yamamoto, M.:
"Achievement of protein micro-crystallography at SPring-8 beamline BL32XU."
J. Phys.: Conf. Ser. 425, 012002 (2013).
Recent Research Results
Related Links
Lab Members
Principal investigator
Masaki Yamamoto

Team Leader
Core members
Hideo Ago

Senior Research Scientist

Hiroshi Sugimoto

Senior Research Scientist

Takehiko Tosha

Senior Research Scientist

Yoshiaki Kawano

Senior Technical Scientist

Go Ueno

Senior Technical Scientist

Kunio Hirata

Senior Technical Scientist

Takaaki Hikima

Research Scientist

Amane Kobayashi

Special Postdoctoral Researcher
Contact Information
Structural Biology Facility,
1-1-1 Kouto, Sayo-cho,
Sayo-gun, Hyogo,
679-5148 Japan
Tel: +81-(0)791-58-2839
Fax: +81-(0)791-58-2834
Email: yamamoto [at] riken.jp