RIKEN Center for Sustainable Resource Science

Biofunctional Catalyst Research Team

Team Leader: Ryuhei Nakamura (D.Sc.)
Research Summary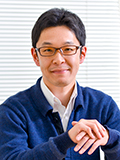 We work on the development of biologically inspired catalysts and their application to energy conversion and production systems. Specifically, we attempt to exploit the nature's ingenuities of multielectron catalytic reaction, electron/proton transport, metabolic regulation, flexible response to external stimuli, and the robust energy management in a deep sea environment to develop the novel materials and systems necessary to effectively manage renewable energy sources.
For more information, please visit the following link: Biofunctional Catalyst Research Team
Main Research Fields
Related Research Fields
Environmental Science
Complex Systems
Biology
Keywords
electrocatalyst and catalyst theory
enzymatic reaction
H2 production by water electrolysis
energy conversion at deep-sea hydrothermal vents
Environmental diagnosis for marine ecosystems
Selected Publications
Papers with an asterisk(*) are based on research conducted outside of RIKEN.
1.

A. Li, S. Kong, C. Guo, H. Ooka, K. Adachi, D. Hashizume, Q. Jiang, H. Han, J. Xiao, R. Nakamura:
"Enhancing the stability of cobalt spinel oxide towards sustainable oxygen evolution in acid"
Nat. Catal., 2022, 5, 109-118(2022)

2.

H. Ooka, M. E. Wintzer, R. Nakamura:
"Non-zero binding enhances kinetics of catalysis: machine learning analysis on the experimental hydrogen binding energy of platinum"
ACS Catal., 11, 6298-6303(2021)

3.

D. He, H. Ooka, Y. Kim, Y. Li, F. Jin, S. H. Kim, R. Nakamura:
"Atomic-scale evidence for highly selective electrocatalytic N−N coupling on metallic MoS2"
Proc. Natl. Acad. Sci. U.S.A., 117, 31631-31638(2020)

4.

R. Hudson, R.Graaf, M. Rodin, A.Ohno, N. Lane, S. E. McGlynn, Y. M. A. Yamada, R. Nakamura, L. M. Barge, D. Braun, V. Sojo:
"CO2 reduction driven by a pH gradient"
Proc. Natl. Acad. Sci. U.S.A., 117, 22873-22879(2020)

5.

Y. Li, Y. K. Go, H. Ooka, D. He, F. Jin, S. H. Kim, R. Nakamura:
"Enzyme mimetic active intermediates for nitrate reduction in neutral aqueous media"
Angew. Chem., Int. Ed., 59, 9744-9750(2020)

6.

A. Li, H. Ooka, N. Bonnet, T. Hayashi, Y. Sun, Q. Jiang, C. Li, H. Han, R. Nakamura:
"Stable potential windows for long-term electrocatalysis by manganese oxides under acidic conditions"
Angew. Chem., Int. Ed., 58, 5054-5058(2019)

7.

D. He, Y. Li, H. Ooka, Y. K. Go, F. Jin, S. H. Kim, R. Nakamura:
"Selective electrocatalytic reduction of nitrite to dinitrogen based on decoupled proton-electron transfer"
J. Am. Chem. Soc., 140, 2012-2015(2018)

8.

A. Yamaguchi, R. Inuzuka, T. Takashima, T. Hayashi, K. Hashimoto, R. Nakamura:
"Regulating proton-coupled electron transfer for efficient water splitting by manganese oxides at neutral pH"
Nat. Commun., 5:4256(2014)

9.

*A. Okamoto, K. Hashimoto, K. H. Nealson, R. Nakamura:
"Rate enhancement of bacterial extracellular electron transport involves bound flavin semiquinones"
Proc. Natl. Acad. Sci. U.S.A., 110, 7856-7861(2013)

10.

*R. Nakamura, T. Takashima, S. Kato, K. Takai, M. Yamamoto, K. Hashimoto:
"Electrical current generation across a black smoker chimney"
Angew. Chem. Int. Ed., 49, 7692-7694(2010)
Recent Research Results

Related Links
Lab Members
Principal investigator
Ryuhei Nakamura

Team Leader
Core members
Yoko Chiba

Senior Scientist

Hideshi Ooka

Research Scientist

Ailong Li

Research Scientist

Taejung Lim

Special Postdoctoral Researcher

Chen Chen

Special Postdoctoral Researcher

Koichi Yatsuzuka

Postdoctoral Researcher

Tomoharu Suda

Postdoctoral Researcher

Aufandra Cakra Wardhana

Postdoctoral Researcher

Nao Tsunematsu

Technical Staff II
Careers
Contact Information
S103, Sustainable Resource Science Building,
2-1 Hirosawa, Wako, Saitama 351-0198, Japan
Email: ryuhei.nakamura [at] riken.jp